Pools are to be loved and enjoyed, but all parents and grandparents are aware that there is a safety concern for children.  Fences and gates give adults peace of mind by ensuring that children cannot have free access without assistance.  In some states, laws dictate what is required around a pool at a residences or businesses and the type of gate latches used.  Antietam Iron Works can help you meet these standards.   This project may inspire you on the next project at you're home
This fence was hand forged by Antietam Iron Works for a client in Greencastle, PA.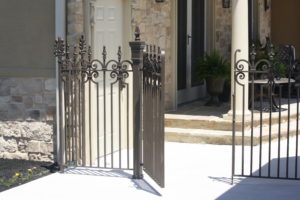 The stately detail in the design complements their home.  The bronze powder coated finish echos the surrounding earth tones of the property.  They are ready to jump in and enjoy!
[Call us with any questions you may have about your pool fence.
Contact us at 717-485-5557