Our Services
Antietam Iron Works is devoted to the unique needs of homeowners and professionals. All of our iron work is custom made and cannot be found in any retail store. Contractors, builders, interior designer decorators and architects can depend on Antietam Iron Works for excellent service and creative design.
Some of our services include:
New Architectural
Design Fabrication Installation
Restorations
Reproduction Refinishing Reinforcement
Additional Services
Plasma CNC- Perfect for Emblems, Monograms, and Signs Welding Repairs
Frequently asked questions:
How is your iron work constructed?
Our railings, gates, and all our products are built only from high quality domestic steel and are hand crafted in our shop. We strive to not use any imported materials.
What kind of finishes do you offer?
We offer powder coating, liquid paint, and oil finishes. We will advise and work with you to determine what best suits your project's needs.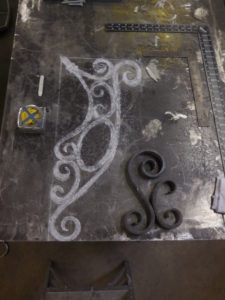 Why should I buy custom iron work over the home improvement store iron work?
Antietam Iron Works offers excellence in quality and service from beginning to end.  Our custom iron work is built to fit your home and your needs. Home improvement store "iron work" is made by necessity in a factory assembly line, hundreds at a time.  Factory iron work is typically made from cheap imported materials that are weak, inferior and do not last.   Additionally, if they don't fit properly, then cuts and angles will be used thereby destroying the grace, beauty, and strength that could have been.  The joy and satisfaction of superior quality long out lasts the short term savings of an inferior product.
How will I come up with a design?
Some of our clients know exactly what design they want and others only have a vague concept.   However, we can assist you in designing your project that will compliment your style, taste, and fit within your budget.
How do I get a estimate for my project?
There are two common ways we prepare an estimate. Our primary ways, is to ask for an email with photos of the area where the iron work will be installed and also any design ideas that appeal to the home owner. We will use this information to set a budget for the project. After that, we will come to your establishment and measure the site where you need iron work.   The second way to get an estimate is from blue prints.
From Elegant and Luxurious to the Classic and Simple we appreciate all projects
Contact us at 717-485-5557 or sales@antietamironworks.com